HortControl 3.3 release – Max Height, Snapshot, Reprocessing & more
At Phenospex we are continuously working on improving our products. Today we are happy to announce a new HortControl release, which improves the usability and will increase your phenotyping productivity. Here is a short overview
Reprocess your experiments with different settings
New plant parameter: Height Max
New tools: Snapshot & Show last scan
New plant parameter "Height max".
Our height parameter reflects an adjusted height. Mathematically we cut a little part of the top to make this parameter reliable and constant. This way the parameter is less susceptible to wind or other unstable situations. There are times, however, that you want the true plant height. In HortControl check the parameter list for "Height max".

"Snap Shot" a single measurement
Visualize the current status of your plants with the "Snapshot" function.
Reprocess 3D scans with different settings
Reprocess your entire experiment with new settings in 3D splitting, Color bin settings and more. Find better settings for your experiment or easily apply changes to the previous results.
Other updates
Visualization and download of the 3D files in the data board offers a merged 3D file for dual scans instead of the master and slave scans
The tooltip of the overview module in the data board is more informative
Ply files are now removed from the system once an experiment is deleted in the system board. This is done to free up more space.
Version info, contact details and a download link to the manual are provided in the top bar of all boards
All the histograms of the units in the data board can be enlarged
To all release notes (since 3.2)
Next release, a sneak peek
HortControl 3.4 is scheduled for the beginning January. It holds major updates for those who want to import and compare data from different sources!
Import other digital/ manual measurements into HortControl
Analysis module to correlate parameters and imported data
Add tags with (event) information to your data
Color segmentation to easily filter out pots, soil or other artifacts
Network settings module and other technical updates
Want more information?
Our support, sales, R&D and operations team is happy to help with all your questions and requests. Just send us a message or give us a call!
How to update your HortControl?
All HortControl users with a license will be updated by our support team. No license? Contact us and ask for your update possibilities.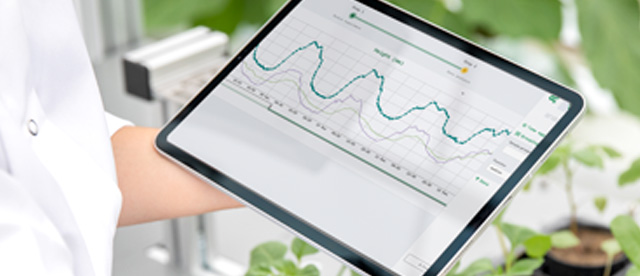 HortControl visualizes and analyzes your data:
Set up and monitor your trials
Data management, visualization and data export functions
Automated reporting functions
HortControl is the central software to setup, visualize and analyze your PlantEye measurements. Read more about HortControl and our automation process.