DroughtSpotter
precision irrigation and weight data
Climate change is pushing academia and breeders to conduct abiotic stress experiments like drought, heat or salinity. Precise irrigation and reliable weight data is a must during these experiments. DrougtSpotter enables you to automate your irrigation activities with high accuracy and reliability and record the weight of every pot and plant. The irrigation scheduling and the different irrigation modes allow for perfect experimental control and collecting weight data is fully automated. The data is stored and visualized in our software HortControl.
Design and automate all irrigation activities (optional) in high Precision and reliability
Robust design works under harsh conditions.
Weight measurements with high accuracy and reliability
DroughtSpotter is designed to accommodate bigger and unlimited number of pots up to 250 kg. The scales can be used in climate chambers, labs, greenhouses and even under field conditions.
Software
HortControl allows you to manage data and setup experiments with irrigation schedules. Design, control and track your experiments anywhere in the world. All data is stored locally on the system and processed on a server that comes with the gravimetric systems.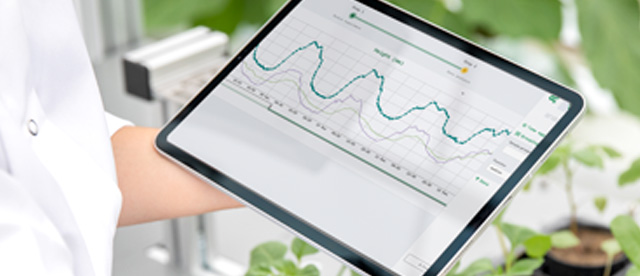 HortControl visualizes and analyzes your data:
Set up and monitor your trials
Data management, visualization and data export functions
Automated reporting functions
HortControl is the central software to setup, visualize and analyze your PlantEye measurements. Read more about HortControl and our automation process.
Spot genotypes with improved tolerances towards drought
Providing genotypes with improved tolerances towards drought has become a major focus in science and breeding programs around the world. Assessing water status has become a basic research method, which is increasingly performed by gravimetric measurements. The power of gravimetric measurements lies in its simplicity and the ability to gain integrated and resilient data over the day. We developed DroughtSpotter as a robust and affordable solution for assessing the transpiration rates of hundreds of plants.
Watch the the webinar of Dr. Vincent Vadez on how he uses the scales combined with PlantEye data to breed drought resisting / climate smart crops.
In one of his recent papers in the Journal of Experimental Botany Vincent Vadez et all. have shown various of examples of how DroughtSpotter can accelerate your drought screening routines. More information about their research can be found at their website .
Phenotyping for water saving traits
Using the high measuring frequency of DroughtSpotter enables you to measure absolute differences in transpiration and its dynamics over the course of the day. In this study Vadez et al. 2015 assessed transpiration rates of two different Pearl Millet genotypes with Phenospex FieldSales. (VPD at noon noted in the graph). One genotype (PRLT) shows significantly less transpiration at high VPD. This "water saving trait" is of a benefit in a drought scenario and leads to higher yield. Please note that leaf area in this experiment was assessed with Phenospex PlantEye laser scanner.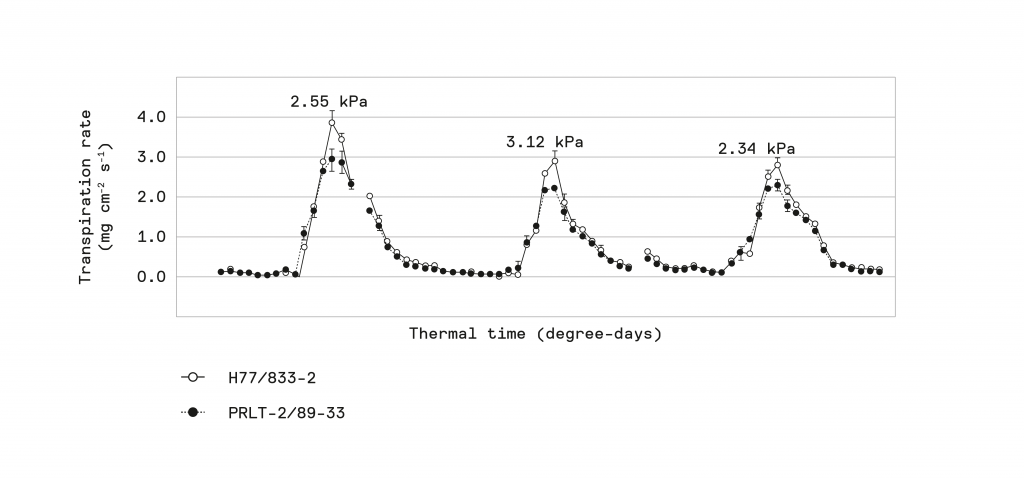 Combine sensors data:
It is possible to combine DroughtSpotter data with PlantEye measurements and with environmental data from our weather station. All data is stored in the same database, contains the same meta data and is therefore easily used to calculate parameters like Transpiration rate or  Water use efficiency (Transpiration rate over Biomass).
PlantEye automates phenotyping in 3 steps:
PlantEye Scans plants and creates 3D files
20+ plant parameters are calculated
Plant data is Visualized and Analyzed
PlantEye delivers 20+ parameters ready to be analyzed! Read more about the parameters and our automation process.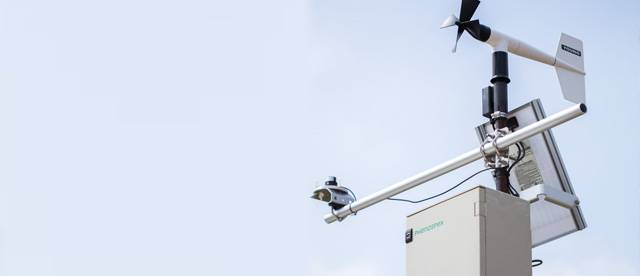 Weather Station: Environmental data for your data-sets
Temperature
Relative humidity
Wind speeds
PAR (Photo-synthetically active radiation)
Add environmental data to your data-sets.
Technical Specifications
| | |
| --- | --- |
| DroughtSpotter | |
| Dimensions | Depending on max. load |
| Maximum load per scale | 250 kg |
| Accuracy | 1 – 400 g |
| Amount of linked scales | Unlimited |
| Protection class | IP67 |
Downloads:
DroughtSpotter Dataset

Download the salt stress dataset. It contains 292040 measurements (in 14 days), environmental data, Graphs and pictures of the setup. Enter your email to receive the download link.