Accelerate the Development of your LED Light Recipes with OSRAM and Phenospex
LED´s are revolutionizing the way we grow crops in greenhouses and indoor farms today. They even enable you to design the shape and color of your crops with light recipes. Therefore it is more important than ever to easily design your own recipes.  Download the white paper to get the unique insides on how to implement:
LED light recipes to shape plants in form, size and color
Automated plant analysis to accelerate light recipe development
Experiments
In this paper we discuss two experiments. One on the effect of light recipes on plant growth and the other on plant coloration. By using LED's with different wavelengths we can control the light quality and intensity. With this you can compose endless amounts of light recipes to grow and shape crops. OSRAM and Phenospex combined their unique knowledge on LED lighting and automated plant analysis to determine if light recipe development can be accelerated.
White paper download:
Accelerate your research with:
Phytofy RL – Tunable LED grow lights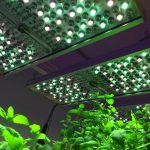 PHYTOFY RL is a tunable LED horticultural lighting system from UV to Far-red with real-time control and scheduling features for each individual channel. The calibrated system is designed for delivering light treatments with varying spectra, wavelength and intensity, for horticulture research. This system is the perfect choice for the research and development of plant-specific light recipes. Light control is available through a graphical user interface. More information on the OSRAM website >
PlantEye – 3D & MultiSpectral plant analysis
PlantEye is a unique plant sensor that combines the strength of 3D vision with the power of multispectral imaging. It captures plants non-destructively and delivers precise and objective plant parameters in real time. Read more >