DroughtSpotter
automate irrigation & transpiration rates
The DroughtSpotter records the loss of weight of every pot with high precision. Just like a lysimeter it computes transpiration dynamics and water use efficiency for every single plant. Irrigation activities are automated with high accuracy and reliability – even during the weekends!
Assess transpiration rates of plants fully automatically and in high-throughput
Assess water use efficiency fully automatically
Design and automate all irrigation activities in high Precision and reliability
Hence no more manual weighing to assess the transpiration rates of your plants. DroughtSpotter controls your experiments with high precision and reliability even during the weekends.
A DroughtSpotter table contains either 12 or 24 scales. Tables can be linked for high throughput. Each scale is equipped with a height adjustable irrigation tube for pot heights up to 500 mm. DroughtSpotter can be used in climate chambers, labs and greenhouses.
Lysimeter
DroughtSpotter is a lysimeter that assesses water use & transpiration rates based on weight measurements. This data can be combined with measurements from PlantEye.
Irrigation modules & water modes:
Design the irrigation schedule of each individual pot with our irrigation module and automate the irrigation of your experiments. The irrigation module will take care of your dry-down- or recovering experiments with high reproducibility and reliability.
The following irrigation modes are available:
Applications:
DroughtSpotter is used by plant scientists and breeders for a wide range of applications like:
Experimental control
phenotyping
Chemical- and mutant screenings
Stress detection
Bio assays
Biotox assays
Drought Spotting, phenotyping for water saving traits
Using the high measuring frequency of the DroughtSpotter enables you to measure absolute differences in transpiration and its dynamics over the course of the day. In this study Vadez et al. 2015 assessed transpiration rates of two different Pearl Millet genotypes (VPD at noon noted in the graph). One genotype (PRLT) shows significantly less transpiration at high VPD. This "water saving trait" is of a benefit in a drought scenario and leads to higher yield. Please note that leaf area in this experiment was assessed with the PlantEye.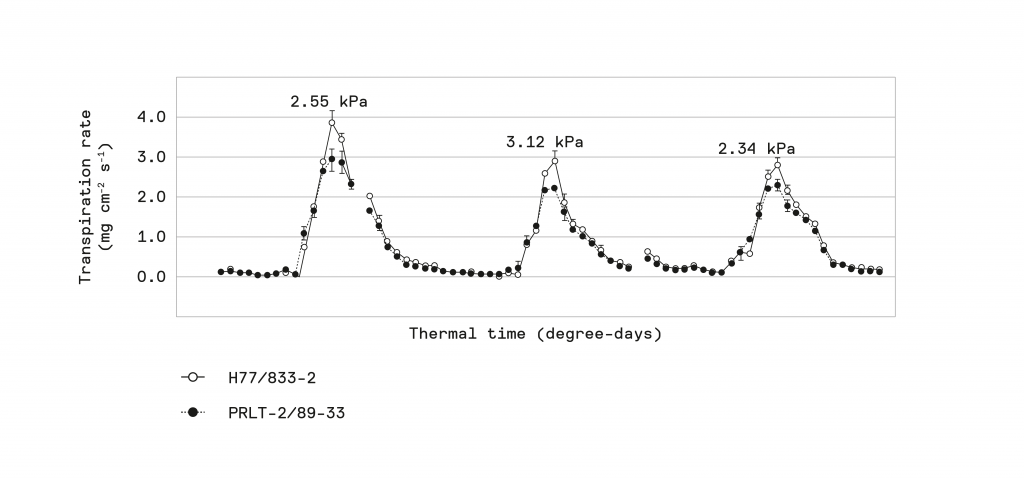 Software
Design, control and track your experiments anywhere in the world. All data is stored locally on the system and processed on a server that comes with the gravimetric systems.
Sensors:
Combine DroughtSpotter and environmental data with our weather station.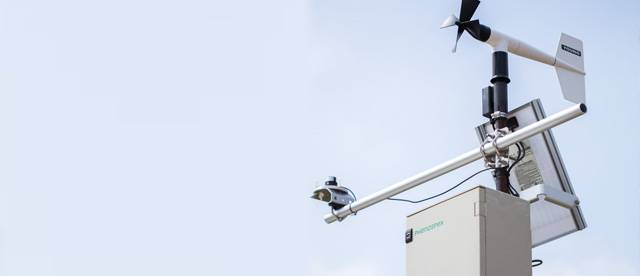 Weather Station: Environmental data for your data-sets
Temperature
Relative humidity
Wind speeds
PAR (Photo-synthetically active radiation)
CO2
Add environmental data to your data-sets. More sensors can be added on request.
FieldScale: Transpiration rates & precision irrigation
Transpiration rates in high resolution
Water use efficiency
Precise irrigation for every pot
Read more about FieldScale.
Technical Specifications
DroughtSpotter
Unit dimensions without
irrigation tubes (L × W × H)
1184 × 770 ×
650 mm
Pot height range
1 – 400 g
Amount of cells per table
12 or 24
Amount of linked tables
unlimited
Maximum load per scale
1  – 15 kg
Accuracy (1 – 15 kg)
1 – 20 g
Protection class
IP66
Irrigation precision
±2 ml
Downloads:
DroughtSpotter Dataset

Download the salt stress dataset. It contains 292040 measurements (in 14 days), environmental data, Graphs and pictures of the setup. Enter your email to receive the download link.