DroughtSpotter
Phenotyping for transpiration rates of plants
Precision irrigation for your experiments and automated weight measurements make sure we can automate your plant transpiration rate calculations.
Precision Irrigation with the DroughtSpotter table
DroughtSpotter systems are composed of tables – knows as units. A Unit is equipped with multiple DroughtSpotter cells. Each cell contains a load cell for measuring transpiration and an irrigation tube to precisely control water content (precision irrigation). Units can be connected to another unit on both sides to achieve a system that is easy to set up, maintain and expand.
Dimensions: 1,000 mm x 700 mm x 650 mm
One plant, one cell
The idea of DroughtSpotter is to control the watering regime of each individual plant over very short time intervals. To do so, each plant is placed in a pot on a so called cell. The irrigation system of the cell can be adjusted in height without any tools. The weighing platform of DroughtSpotter cells can accommodate various pot diameters. An integrated drainage system purges non absorbed water and safely controls the electronics.
Flexible for Users – Precise in Use
When we first developed DroughtSpotter it was clear from the beginning that various pot sizes and weights will be used for different research questions ranging from single plant Arabidopsis over small crates to full size field containers. DroughtSpotter's weight range can be adapted whilst still keeping high precision watering and weighing results.
Irrigation modes with DroughtSpotter
DroughtSpotter can be configured to apply various individual watering modes to simulate precise drought scenarios to each individual plant in the system.
(NONE) left side: Dry down; (HOLD) right side: Weight is kept automatically at target weight.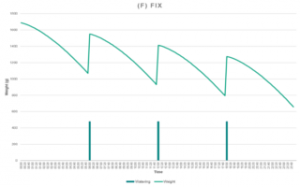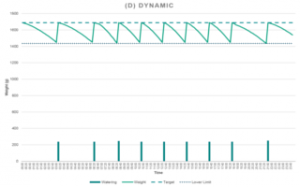 (FIX) left side: At predefined time points an equivalent amount of water is added; (DYNAMIC) right side: Weight is kept automatically and precisely within a bandwidth.
Combine environmental data with transpiration rates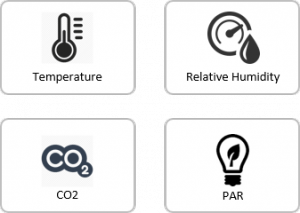 To understand transpiration rates of plants, Vapor Pressure Deficit and many other parameters are a key factor to include in your measurements. DroughtSpotter can be connected to Campbell data loggers to measure various parameters in your research environment. One or multiple sensor probes can be distributed along the platform to allow spatial analysis of environmental conditions.
Automate Drought stress research in the field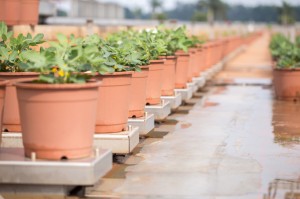 As farmers do not grow their plants in greenhouses, field screening is an essential step in drought stress research. However, more efforts need to be taken to control and monitor the environmental fluctuation (e.g. using rainout shelters and multiple environmental stations). Gravimetric systems can also be used in field situations. Together with ICRISAT we have developed FieldScan, a one of a kind platform that allows the monitoring of transpiration rates and leaf area of thousands of plants on a daily basis.
Read more about our field phenotyping solutions